This week, it's all about Ebenezer. For those of you who aren't familiar, Ebenezer is a UK based London rapper who has worked, and been producing tracks, with artists from Ty Dolla $ign to AWA and Craig David. So far this year, Ebenezer has already delivered with some incredible new music as he released his latest EP, Bad Romantic II, earlier this month. 
Despite seeing Ebenezer feature on several releases – collabing with the talented AWA on her track F**king Love Songs and featuring on Michael Calfan's infectious dance single My Place in 2019; it's been a hot minute since we've had new music from the artist himself, with his last releases being his Bad Romantic EP and 53 Sundays conceptual album in 2018. Taking a more atypical approach to the substance and meaning behind his music, Ebenezer makes a conscious effort to move away from rapping about material things; and instead, discusses the realities and honest truths of his life growing up, internal conflicts and his relationship with religion.
However this year, Ebenezer is back with Bad Romantic II. This latest EP remains true to his style and vision, being another honest and real project with incredible bars and fantastic production; made even more special by the fact that the whole project was produced, written and mixed by Ebenezer himself. The Follow up to his 2018 Bad Romantic EP, we see the rapper return to themes of love, romance and relationships. With lead singles Flaws and All and Mariachi Flow; these set the tone for the EP and begin to detail his take on, and how he deals with, relationship issues and struggles. In true Ebenezer fashion, Bad Romantic II is honest, real and relatable, and paints a genuine picture of relationships; focusing on their grittier side, rather than presenting a false image of perfection.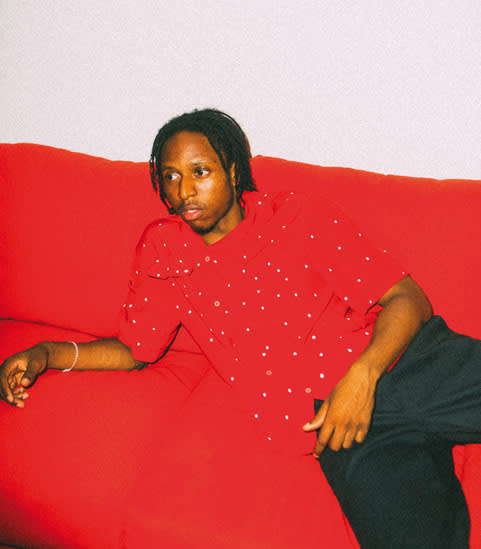 Running through the project, the EP kicks off with the two singles as the first tracks. Flaws and All is the perfect track to begin the EP, and arguably the most heartfelt, with it being a message to his ex and talking about how, despite anything negative going on in their relationship, he still loved her. This is followed up by Mariachi Flow which takes a 360 turn from Flaws and All, talking about the things in relationships that's made him paranoid or have trust issues; and he describes this as "a sum of all of the songs in 'Bad Romance II". Next up is Flexible, which almost works as a slight interlude as it moves away from love to lust and infuses the track with a more rhythmic vibe. Although at its core, it's essentially about communication. Through the rest of the EP, we see Ebenezer discuss jealously and petty love in 3AM To London, lost love in 25 and the struggles of long distance in The Weekend.
I got secrets that I can't even tell my lawyer

Ebenezer – Mariachi Flow
Overall, the EP has an uptempo energy, with some infused dance beats along side some more gentle melodies to compliment Ebenezer's impressive flow and lyricism. Definitely worth a listen, check out the full EP on Spotify, and don't make sure to keep up with Ebenezer on social media @EbenezersWorld. 
Posted By Stevie Carter